As a language learner, it is often challenging to find material that is ability-appropriate.
We have tried to address this problem by building some activities, such as our text games, dialogs, and quiz tournaments, that are targeted to intermediate and upper-intermediate learners of Chinese.
But there is a lot of material out there on the Internet that may be great practice, but is separate from WordSwing and doesn't allow you to take advantage of WordSwing's tools.
We are under no delusion that WordSwing should be your only learning tool. And we emphatically believe it should not be. At most, it should be one of many tools.
But we would like to help as much as we can. And so, with that in mind, we'd like to point out some word lists we made to accompany Children's books that are already out there on YouTube.
Initially we've created a word list to go with each of 8 children's stories. Each story has a high quality YouTube reading of the story.
When you browse the published lists, you should see eight word lists among those published that correspond to Children's stories. They should look like: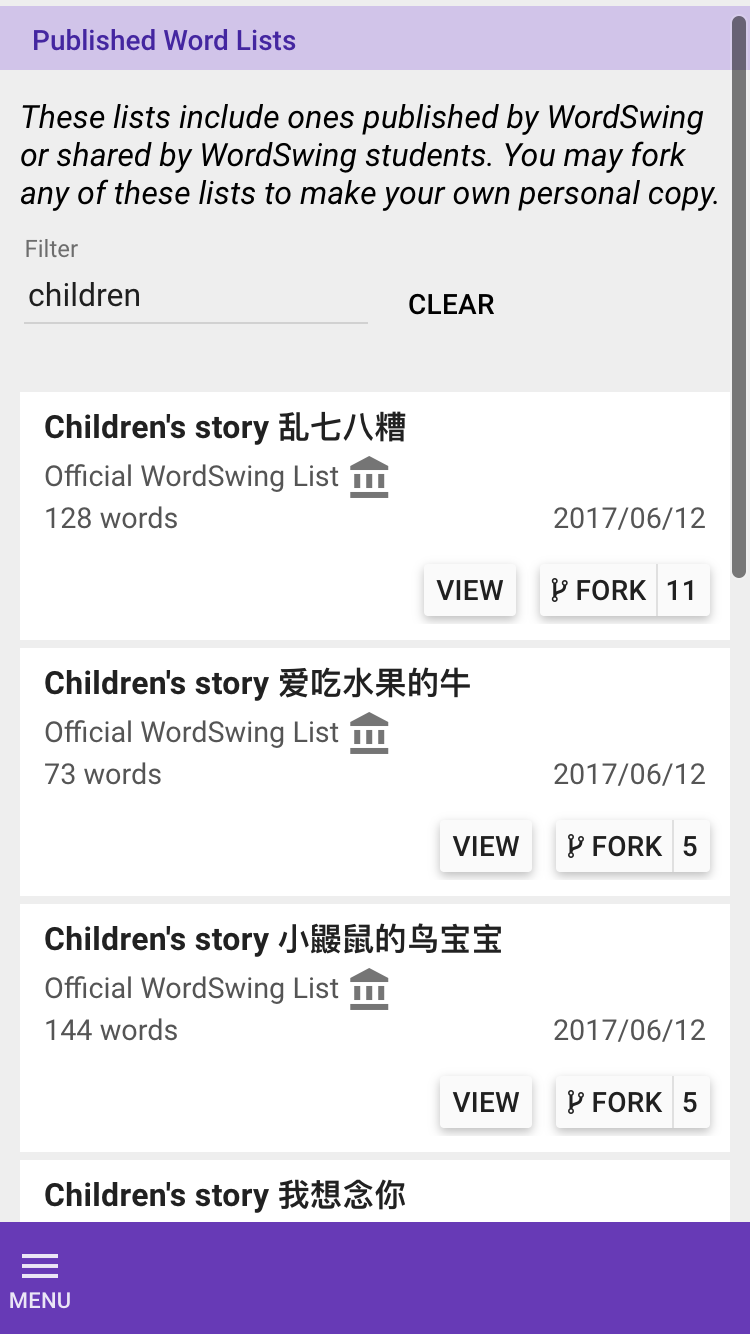 One way to use these word lists would be as follows:
Fork the published list.
Use the "Prune list" feature to remove any words that you have already marked as "learning" or "mastered".
Preview the words by clicking through and drill down into any words you don't recognize (tap the word on on the Word List when "Drill-down" mode is enabled).
Listen to the story on YouTube and try and recognize any words you remember from previewing the words.
Practice the words in the Pronunciation Recall gadget.
Repeat steps 3,4, and 5 as desired until you're satisfied with having learned some new words.
We've explained these steps in more detail in our post, Into the Haze is not as hard as you think.
Here's a list of the stories, and links to the videos and word lists:
Even if our text games are a bit too hard for you, we hope you will enjoy these fun and engaging children's stories. And perhaps the word list tools on WordSwing will make it easier to explore the words and track your progress learning them.