The first chapter in our very first text adventure game is Escape. Ready to make your daring escape?
A quick synopsis:
Escape is an interactive graded reader that begins with the main character (you) trapped in a room for unclear reasons, and you must find a way to escape and avoid getting caught, all the while exploring the world of the game in Chinese.
Our goal in designing this adventure game format was two-fold:
Provide an interesting and entertaining narrative through which to explore and practice Chinese, thereby circumventing some of the boredom of typical learning materials.
Keep the text accessible by carefully writing all the text to target intermediate learners of Chinese.
We have made a short video to introduce the game:
How do I play?
The game consists of a series of choices that allow you to direct how your character responds to each situation.
As you make your way through the game, the "game conversation" will show descriptions of the scenes, describe the results of the actions you take, as well as show dialogs that occur in the game. Things you say or do are shown in green, while things other characters say or do are shown in blue. Descriptive text doesn't have a color. Messages are presented one at a time so you can have time to read and digest each one.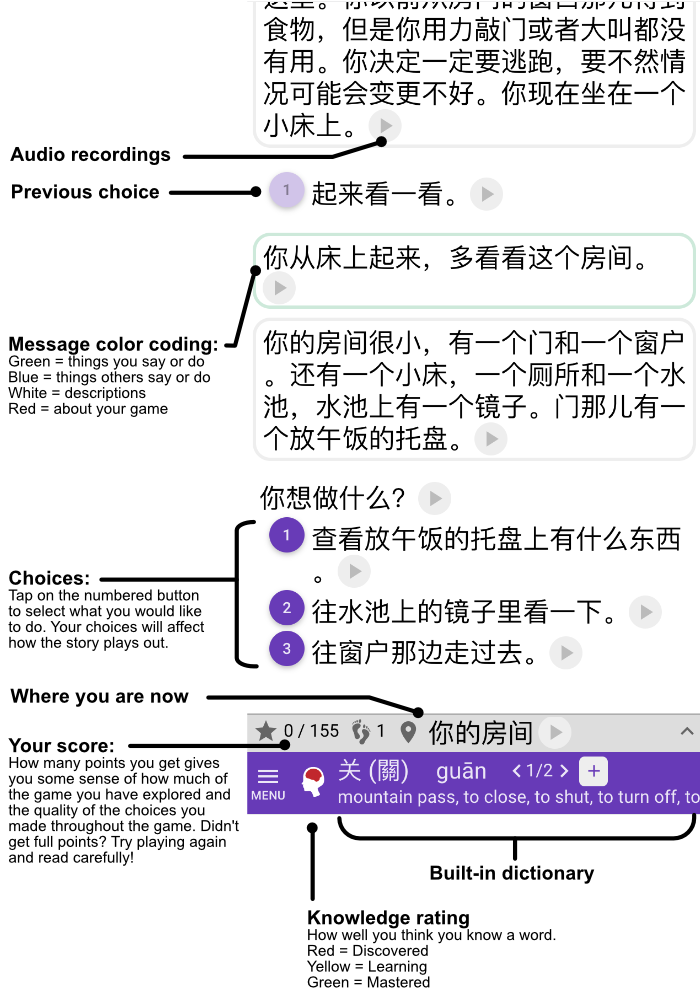 You make a choice by tapping on one of the numbered circles next to the choice. Some of the choices are clearly bad, once you understand the text, but others are more subtle, so read carefully.
Some parts of the game have a more linear narrative structure, while other parts resemble small puzzles with somewhat complicated logic that needs to be worked out in order to get through. So be persistent and keep trying!
The more you play the more practice you get
We encourage you to play the game several times, as the more you play the more practice you will get, and the more comfortable you will become with the language.
Even if you have already seen the description of a scene before, you may find it helpful to read it each time you see it, as language is somewhat of a performance art, and the practice will help increase your reading fluency greatly. You may also want to read out loud to improve your speaking fluency.
There are several routes through the game so see if you can find different ways to get to the end, as well as several ways your game can end prematurely, and often rather badly for your character.
The first chapter involves about 2-5 hours of game play. There are 411 distinct characters, and ~5600 characters of text overall.
You are given points as you make your way through the game, either when you do things that move the game forward or when you learn things important to the story. The points help you see that you're making progress. It is possible to complete the chapter without scoring all the points, but you may want to play again to find what you missed.
Is this game right for me?
Escape is designed for intermediate to upper-intermediate students of Chinese, although an even wider range of students may also find it fun and useful.
The game focuses on a manageable subset of Chinese (e.g., only 411 distinct characters), with the same characters and words appearing many times. Thus you will undoubtedly become an expert reading these characters and words as you explorer the game.
The game is playable if you know at least 200 characters, but you may find yourself relying heavily on the built in dictionary and other drill-down features. If you know closer to 500 characters the game is probably right in the sweet spot of what will be most interesting and challenging. Even if you know 1000 or more characters, the game will still likely be good practice and fun.
You can get a better sense of whether the game is right for you by having a look at our infographic.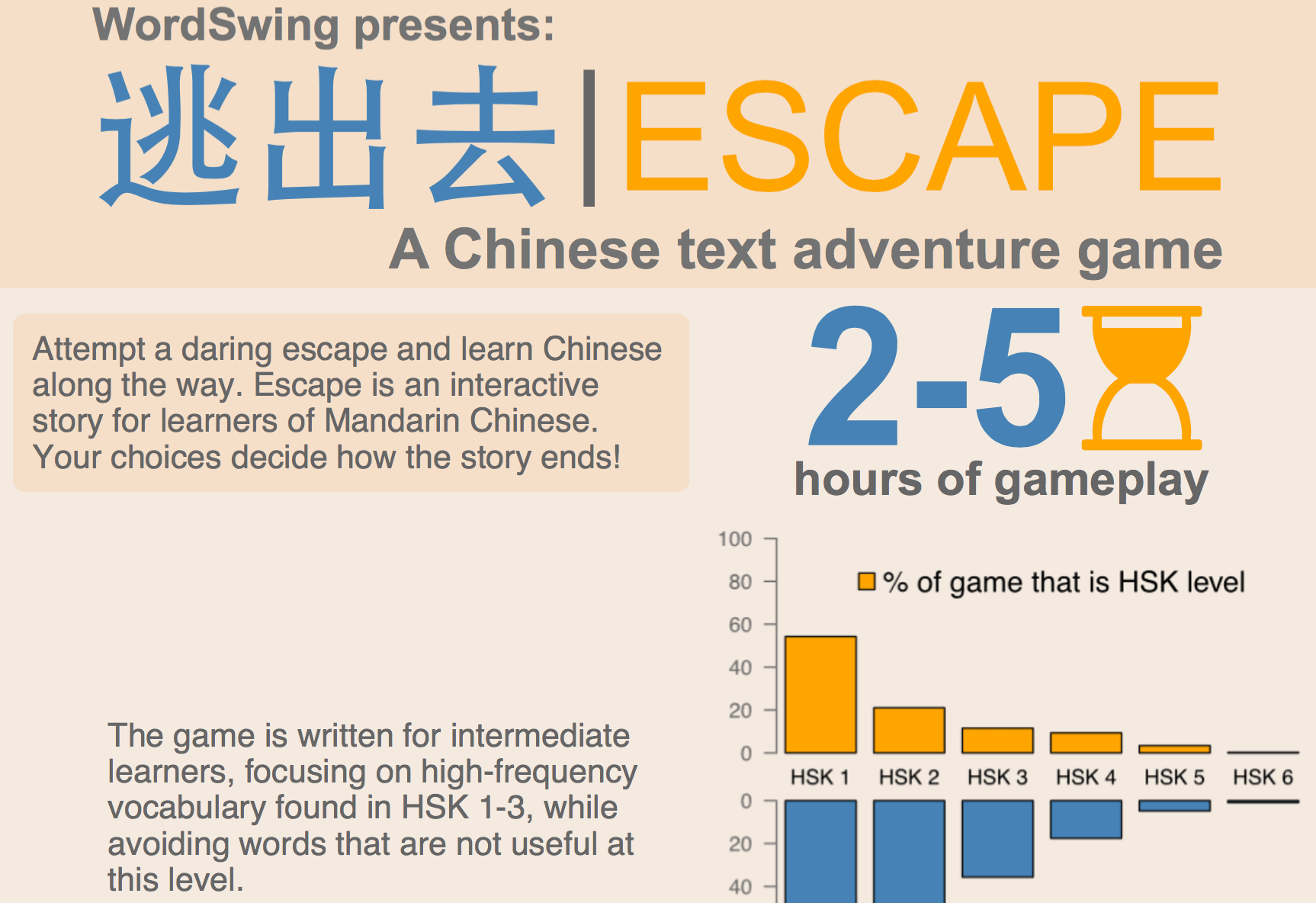 Listening practice
All of the text has audio recorded.
By default, you'll need to press the play button adjacent to each text item when you want to listen to the audio. If you'd like to automatically play the audio while you play the game, you can enable audio auto-play in the app's Settings:

If you would like to focus on how well you can understand purely by listening you can enable audio-only mode in the app's Settings:

When audio-only mode is enabled, game text items will look like this:

If you want to see the text, you can simply click on the icon (circled above).
Checkpoints and saved games
Your game is automatically saved after each choice. And so long as you haven't reached one of the terminal scenes, you can continue your game when when you return. If your game is over, you can either begin a new game or start the game from a checkpoint that was reached in an earlier game. The game Escape has four such checkpoints. Thus, if you have thoroughly practiced the first part of the game, you can skip ahead and work on exploring the latter parts of the game.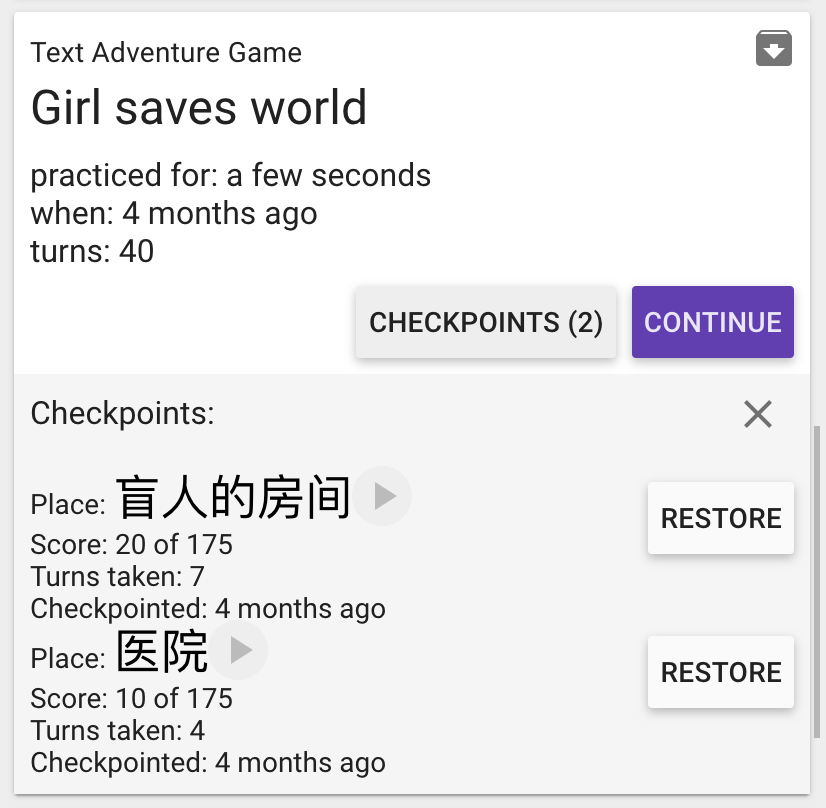 We are aiming to encourage replay by not having too many checkpoints, but at the same time have enough that you can explore the parts of the game you want.