Reading text in Chinese can often seem like looking at wall of inscrutable text if too many of the characters are unfamiliar.
And while we've tried to keep the number of distinct characters low, our text games are no exception. Here's a breakdown of how many distinct characters are in our first five adventure games:
| Game | Distinct Characters |
| --- | --- |
| Burning Building | 399 |
| Escape | 411 |
| Zoo | 469 |
| Wandering Cat | 574 |
| Into the Haze | 649 |
Undoubtedly, many of these characters you already know, but if there are substantial gaps, these can interfere with your reading and make the game less fun.
Our goal here is to show you a study strategy for getting to about 95% familiarity with the text of the adventure games.
The characters that will help you play the game the most are also the characters that you see most often in the game, and so by focusing on these you can simultaneously make the experience of playing the game more fun and more useful.
And although the characters that appear only once in a game make up a substantial fraction of the distinct characters in the game, these singletons make up a tiny fraction of the actual text.
In aggregate, the characters that appear only once in a game only make up between 1% and 1.5% of the text in the game.
For these singletons, it makes sense not to worry about them and to just use the built-in dictionary feature to look up words when you encounter them. Later, when there is a context where these characters are more important, you can learn them then.
Fortunately, there is a great deal of overlap among our text adventure games. In what follows, we discuss one way to leverage this.
Stepping stones
The overlap in which characters are used in each game actually suggests an optimal progression through the games.
In total there are 965 distinct Chinese characters throughout our first five text adventure games. But only 197 of these are used in all the games. Furthermore, most of these are very common Chinese characters, and so you likely already know or are familiar with most of them.
Starting from this baseline, if you familiarize yourself with 88 additional characters, then as you play the first game in the progression, Burning Building, you will already be familiar with 93% of all the text in the game.
We're not suggesting mastering all 88 of these characters before you start playing. That would defeat the purpose of playing the game! The whole point of playing is to have fun while improving your knowledge of Chinese. Rather, we are suggesting familiarizing yourself with the ones you don't know so that when you see them in the game, you have an opportunity to recall them, which seems to be the important neural-connection-forming activity of learning.
From there, you can progress through each of the next 4 games, previewing exactly those characters that will most help you through each successive game.
Here I illustrate this progression: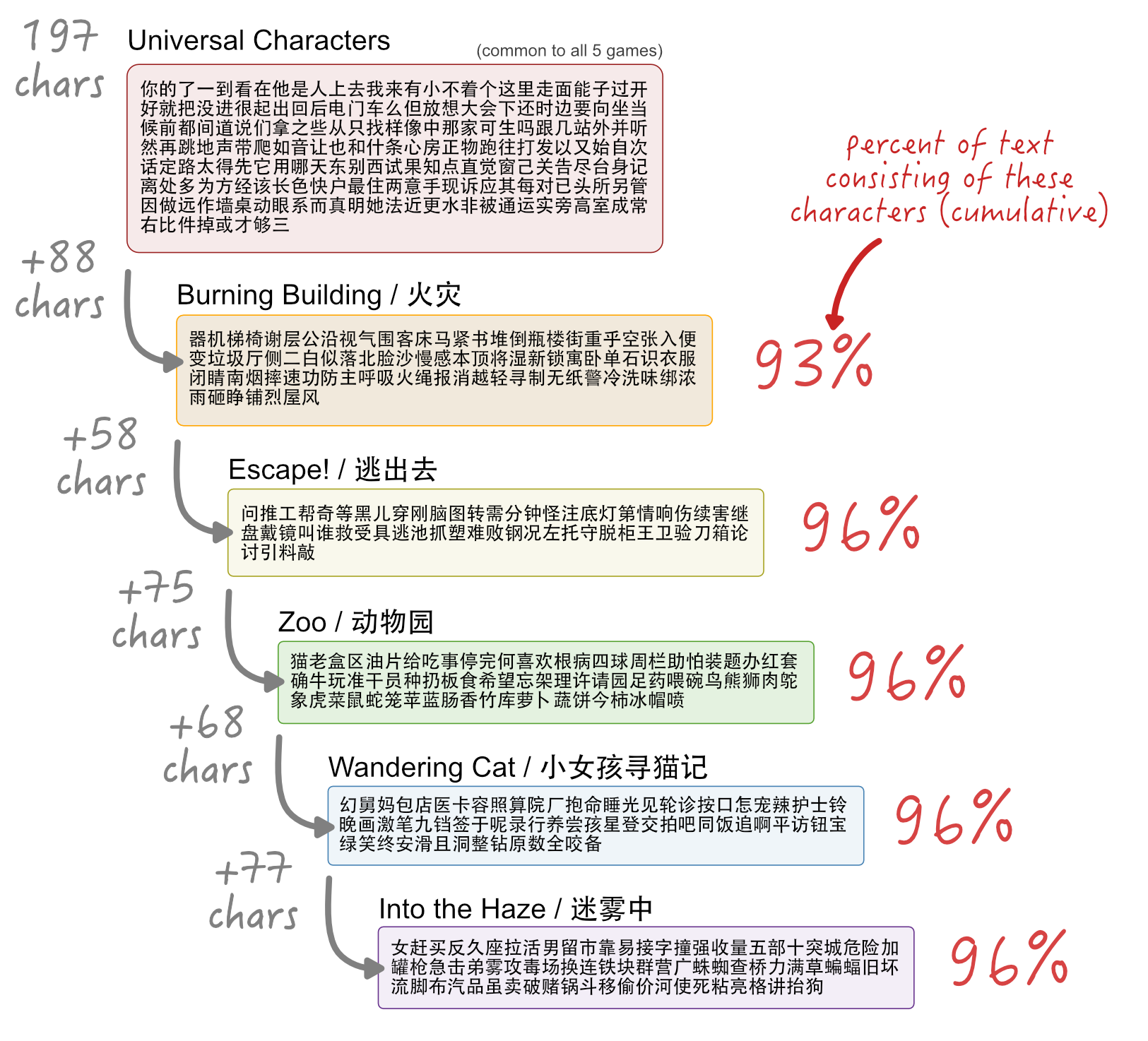 At each step of the way you will be familiar with upwards of 95% of all the text in the game! That might be a huge difference from if you dive in without strategically filling in the gaps in advance.
We estimate that the typical student can go from being familiar with less than 75% of text to being familiar with 95% of the text.
This is like going from 1 in 4 characters looking unfamiliar to only 1 in 20 characters looking unfamiliar!
Word lists to the rescue
If you would like to try out the above progression through our five games, we have set up six word lists on WordSwing corresponding to the above sets of characters.
These lists contain words that use the characters at each particular step pictured. Learning the characters in the context of words that are used in the game will provide you more context than learning isolated characters.
Tap the "fork" button to make a personal copy to study from:

The idea is not to learn all the words now, but rather to merely preview vocabulary that involves characters you are unfamiliar with. If you've been using WordSwing's knowledge stage ratings then you can use these to prune the list of words down to only those you haven't noticed yet.
If you tap the Adjust knowledge stages button, you can see your ratings for these words: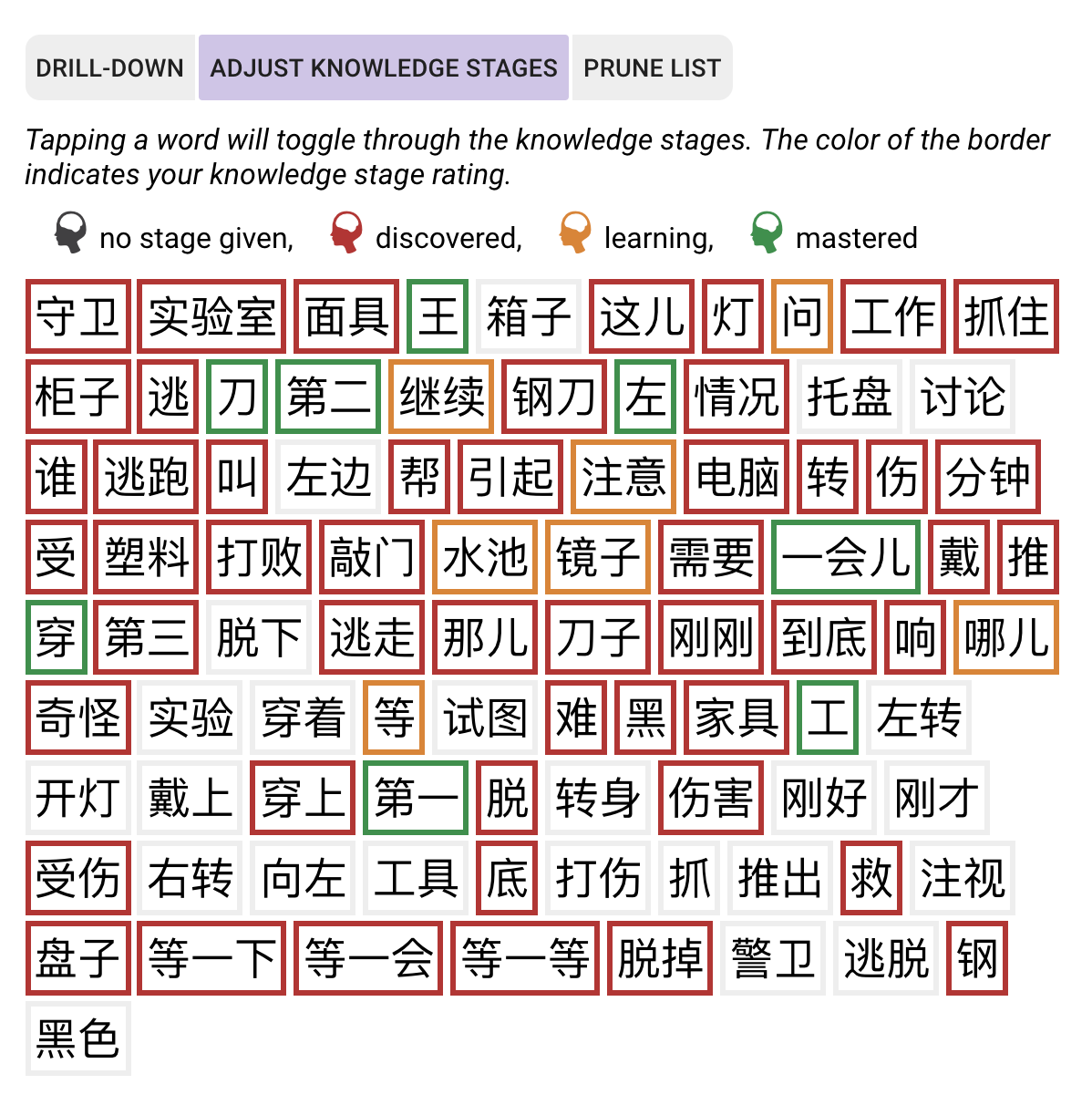 You can then tap the Prune list button and tap each of the three links for marking by rating, discovered, learning, and mastered. This will allow you to then delete these words from the list so you can focus on the words you don't know. After you've tapped the three links, you'll see purple X's next to the ones that will be deleted when you tap the trash button: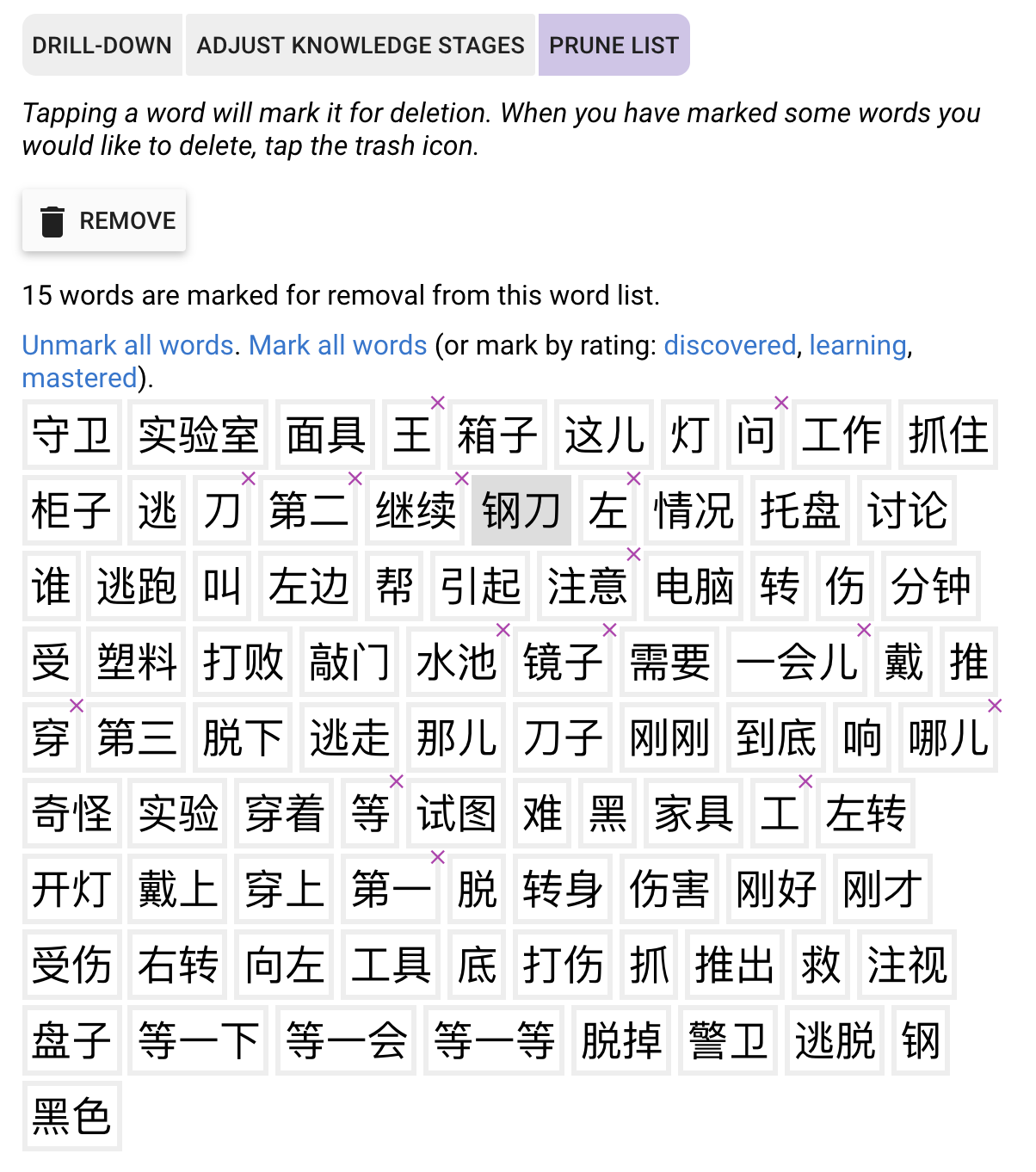 One way to preview the words is simply to select Drill down mode when viewing the word list and then tap on any of the words you want to look up. You can then see the pronunciation and meaning in the built-in dictionary.
But you can also use these word lists with any of our word list-oriented activities, including:
Pronunciation Recall - Spaced repetition where you are prompted with a character and are asked to recall it's pronunciation. This is my top choice for this task because it most resembles reading.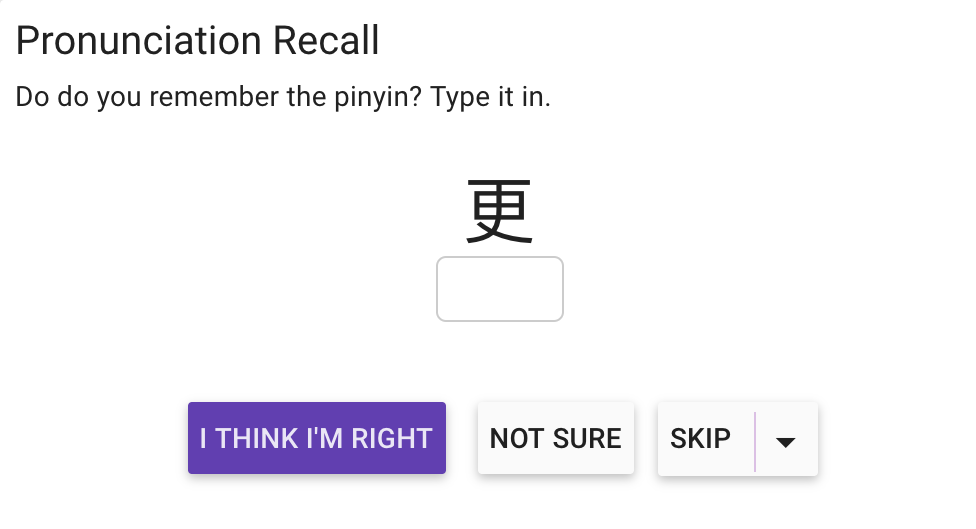 Frequency-ordered SRS - Spaced repetition where you try and recall how the character is written.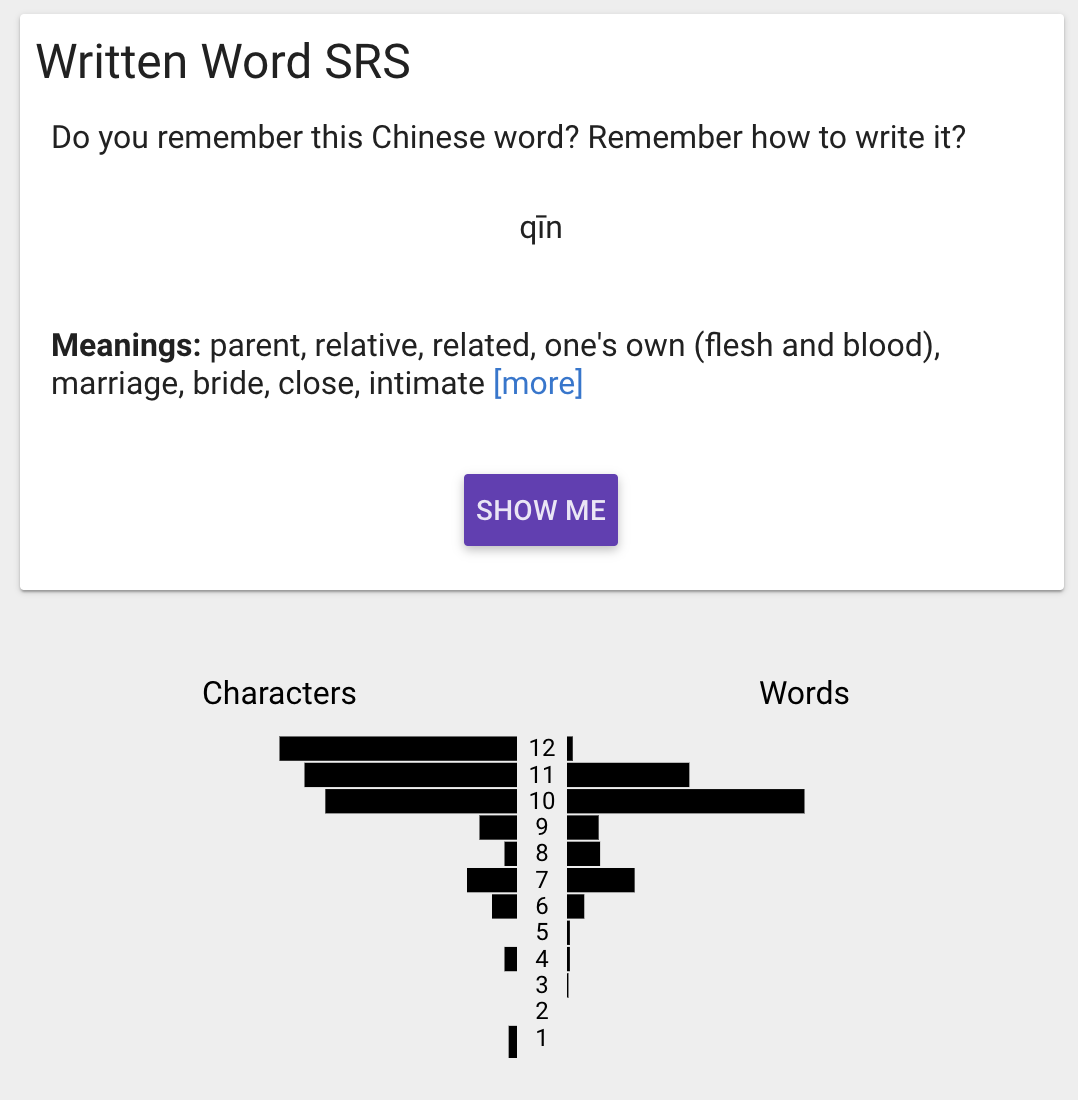 Character Memory Grid - An fast-paced character memory game where you remember how characters are pronounced.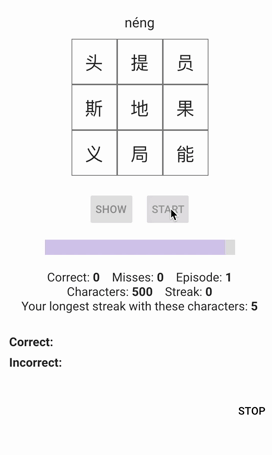 Conclusion
So if you're looking for a methodical way to use our Text Adventure Games to grow your Chinese vocabulary and character knowledge, we encourage you to try the games following the above progression, and preview the vocabulary before you play the game. This way, as you play the games and master the vocabulary, upwards of 95% of the text will at least be a bit familiar.
And keep in mind you are more than welcome to just dive in and play. This strategy is just an idea, and you're also welcome to use some hybrid approach, whereby you go back and forth between previewing word lists and playing the game.
Have fun!
PS: If you'd just like the lists of characters in this progression, here you go:
Universal (common to every game):
你的了一到看在他是人上去我来有小不着个这里走面能子过开好就把没进很起出回后电门车么但放想大会下还时边要向坐当候前都间道说们拿之些从只找样像中那家可生吗跟几站外并听然再跳地声带爬如音让也和什条心房正物跑往打发以又始自次话定路太得先它用哪天东别西试果知点直觉窗己关告尽台身记离处多为方经该长色快户最住两意手现诉应其每对已头所另管因做远作墙桌动眼系而真明她法近更水非被通运实旁高室成常右比件掉或才够三
Important for Burning Building:
器机梯椅谢层公沿视气围客床马紧书堆倒瓶楼街重乎空张入便变垃圾厅侧二白似落北脸沙慢感本顶将湿新锁寓卧单石识衣服闭睛南烟摔速功防主呼吸火绳报消越轻寻制无纸警冷洗味绑浓雨砸睁铺烈屋风
Important for Escape:
问推工帮奇等黑儿穿刚脑图转需分钟怪注底灯第情响伤续害继盘戴镜叫谁救受具逃池抓塑难败钢况左托守脱柜王卫验刀箱论讨引料敲
Important for Zoo:
猫老盒区油片给吃事停完何喜欢根病四球周栏助怕装题办红套确牛玩准干员种扔板食希望忘架理许请园足药喂碗鸟熊狮肉鸵象虎菜鼠蛇笼苹蓝肠香竹库萝卜蔬饼今柿冰帽喷
Important for Wandering Cat:
幻舅妈包店医卡容照算院厂抱命睡光见轮诊按口怎宠辣护士铃晚画激笔九铛签于呢录行养尝孩星登交拍吧同饭追啊平访钮宝绿笑终安滑且洞整钻原数全咬备
Important for Into the Haze:
女赶买反久座拉活男留市靠易接字撞强收量五部十突城危险加罐枪急击弟雾攻毒场换连铁块群营广蛛蜘查桥力满草蝙蝠旧坏流脚布汽品虽卖破赌锅斗移偷价河使死粘亮格讲抬狗